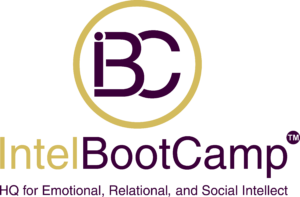 If you're an entrepreneur I'm not talking with you about vision – you have that. I'm not sharing about revenue – you have systems for that, hopefully. And I'm not interested in hyping you up with some elaborate sales pitch. I want to invoke critical thinking – I don't want you inept when it comes to building teams, relationships, collaborations because these are necessary resources to SUPPORTING the Growth of your life, teams and business.
Welcome to the Headquarters for Emotional, Relational and Social Intellect. Our focus in on how you SHOW UP – To yourself first, then in relational and social interactions.  To Show up with an Emotional Maturity that brings value, authenticity, and growth to everyone involved. You CAN create mutually beneficial relationships and Intel BootCamp will show you how:
This Intel program is for you IF:
Expanding and honing competent communication and people people skills is a no-brainer.
Master your Influence and Build Rock-Solid Relationships.
You want to Leverage your Strengths and enlarge your effectiveness.
Want to become self-aware of your wants, needs and triggers as an individual and Leader.
You Use authenticity to maximize personal and professional relationships.
You want to implement a Quality Appeal and Assurance System.
You are an entrepreneur or business owner and want to gain a competitive edge.
And that's just to start – I promise You MUCH More !!
Our 4-week program is designed to reveal YOUR ideal emotional state, strengthen your unique talent, and explore  Here's a quick peek into IntelBootCamp:
Module #1: ICMe Factor of Self Awareness Part 1
Know your strengths and identify your wants, needs and triggers. What do they really mean to you? It's the groundwork for intentional self-exploration into and discovery.
Module #2: ICMe Factor of Self Awareness Part 2
This weeks module is a continuation of part 1 – self-awareness and opens your mind to your talent and gifts – connecting the dots and creating an unconditional surrender to being your true and authentic self. Gain clarity in your gifts, talents, strengths, and weaknesses.
Module #3: Quality Appeal and Assurance
There are so many people pulling you in different directions. Put a system in place that verifies your wants and needs are being met, and sustains the quality of relationships and interactions.
Module #4: Build Social Rapport
How are you Showing up and presenting yourself socially? Learn to identify your emotions and handle them in the moment. Be the calm in any situation. Insure your social footprint aligns with your core values and beliefs.
Join me on this journey of creating the Intel Spark in YOU! Click here: IntelBootCamp and start your Intellectual journey!